Employee Spotlight Mark Richards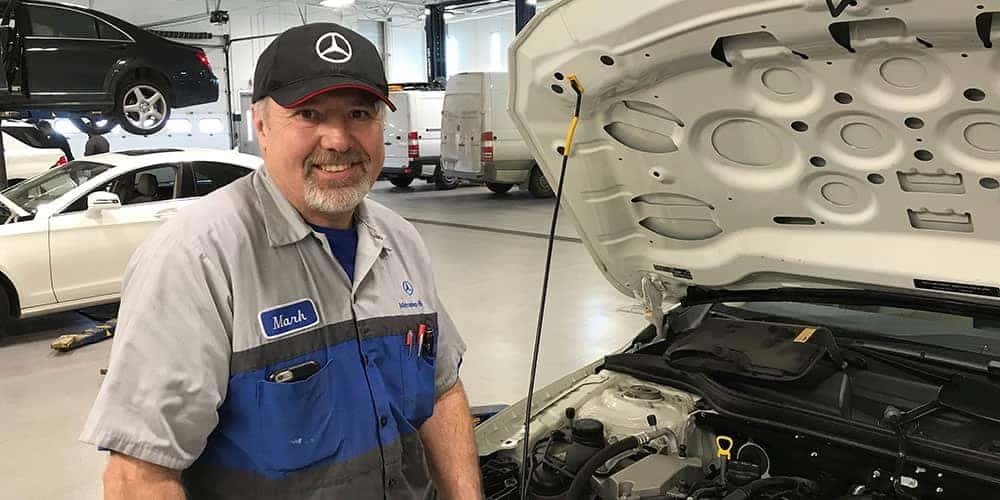 Mark Richards, Master Certified Technician
To be a Master Certified Technician, you have to be part physician (to diagnose), part engineer (to understand the mechanics of the problem), and part…well…Master Technician (to fix the problem). Mark Richards is all of that, and has been for a while.
Q: How did you get into fixing cars?
Mark: I was in high school in 1978. Back then, you could learn everything you needed to know as a young technician in tech school before you graduated high school. You learned a lot of the same stuff people learn now at schools like ITT Tech. But I didn't start working on cars as a job until 1986…I was 26 years old working as a Technician for National Auto Sales in Bellevue.
Q: Did you specialize in any particular brand then?
Mark: (with a sly smile) Yep…Saab. They didn't last the test of time but that was my specialty. But I've been working on Mercedes-Benz cars now for 32 years.
Q: How has the job changed over the years?
Mark: A lot. Diagnosing problems used to be a lot easier, when engines were simpler. Then they advanced and diagnosing tools came out to help but it was still crude. Now we can know with pretty good accuracy where an issue may be occurring. Not always, but it's better. But being a Technician now is very technical and the engineering, especially with Mercedes-Benz, advances dramatically. So you're either advancing along with the manufacturer or you're falling way behind…quicker.
Q: What do like to you do when you aren't at work?
Mark: Recently, my wife and I moved into a new home on Beaver Lake (about 30 minutes south of Omaha) so we're enjoying the seasons and looking forward to a summer on the lake. I used to coach trap shooting at the high school level…I'm retired from coaching but I'm still an avid shooter.